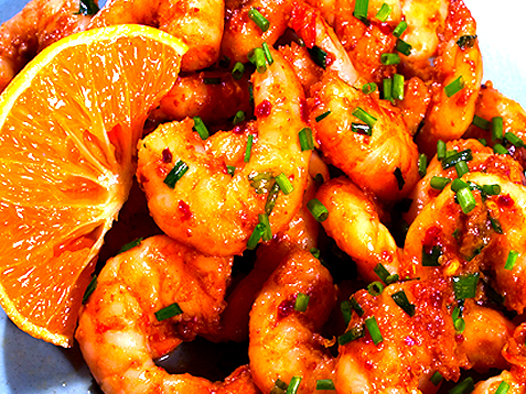 I liked the IDEA of
this recipe
- shrimp with a sweet tangy spicy sauce - but there were numerous things about it that just didn't work for me. I found some similar recipes but they were more Asian-inspired than what I wanted to do. So I took the basic concept and did my own thing.
Firecracker Shrimp
makes three 4 ounce servings
12 oz. frozen shrimp (cooked, peeled, tail-off, deveined)
3 T. honey
3 T. lemon juice
3 T. fresh-squeezed orange juice
1 tsp. orange zest
1/4 tsp. smoked paprika
1/8 tsp. cayenne pepper
Place frozen shrimp in a bowl of cold water and allow to defrost for about 15 minutes. Combine remaining ingredients in saucepan and cook over medium heat until hot and syrupy. Drain shrimp and add to sauce, stir to coat, and cook for about 5 minutes. Garnish with minced scallions, if desired.
Calories: 209 Carbs: 21 Protein: 26 Fat: 2